About Bioservices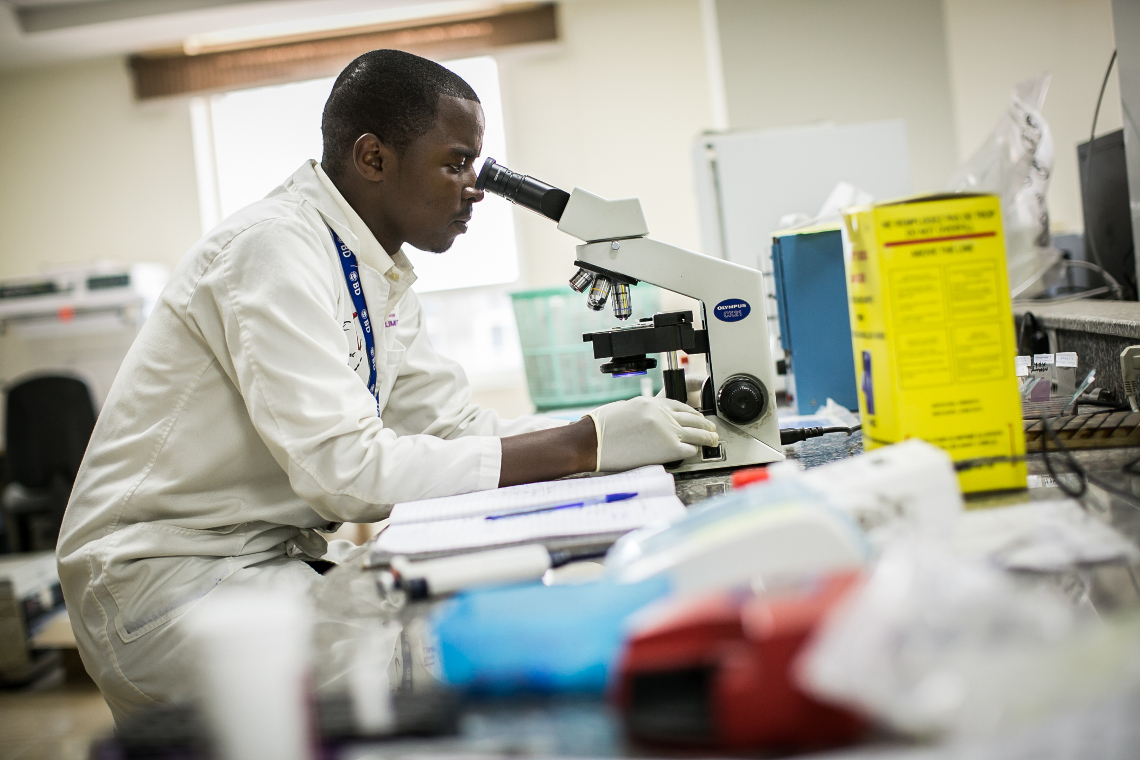 Having access to an established pregnancy biobank saves us tremendous time and money"
GAPPS BioServices was founded in 2009 to serve the urgent need for biological specimens to support research on complications in pregnancy. GAPPS offers full service biospecimen management including biospecimen procurement and management, sample storage and tracking, and molecular analyte extraction. Comprehensive quality control and quality assurance systems are built into every component of our operations. GAPPS has harnessed its expertise in collection and storage of a wide variety of sample types and their derivatives to provide investigators with high quality data and biospecimens to support translational research around the world, including research on normal and abnormal pregnancies, how pregnancy affects maternal and child health after delivery, and fetal origins of diseases.
GAPPS BioServices operates a widely-accessible biobank of standardized, high-quality specimens linked to data from diverse populations of pregnant women and their babies. The collection includes contributions from women representing a range of racial, ethnic, regional and socioeconomic backgrounds. In the United States, GAPPS has recruited and followed the pregnancies of over 2,500 women, collecting extensive demographic and medical data linked to over 136,000 banked specimens. Over 30,000 of these have been distributed to researchers to study the causes of pregnancy complications, and ultimately to develop interventions to save the lives of mothers and babies.
BioServices is working to help researchers:
Discover biomarkers predictive of preterm birth and stillbirth
Create screening tools for potential adverse pregnancy outcomes
Translate scientific discoveries into promising diagnostic, treatment and prevention strategies
Conduct studies focused on other poor birth outcomes and the fetal origins of adult diseases, with the potential for determining causes and developing cures for both acute and chronic diseases.
Specimens and data are available to qualified researchers from our longitudinal pregnancy cohort of over 2500 women. Please submit a request for specimens and/or data via the online form.
Questions? Email GAPPSBioservices@GAPPS.org
What's Collected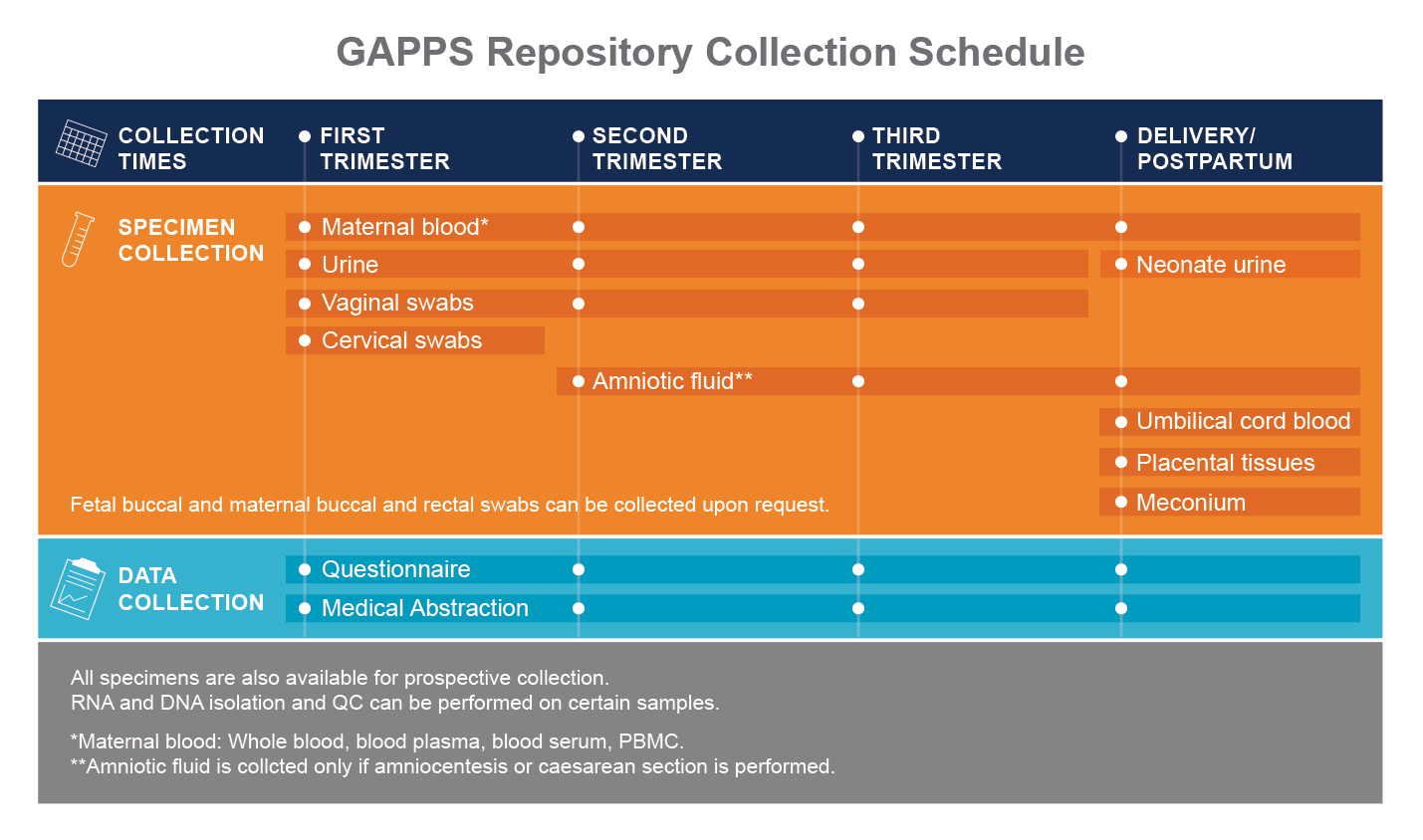 Specimens include:
Maternal blood (plasma, serum, PBMC)
Urine
Cervical/vaginal swabs
Umbilical cord blood (plasma, CBMC)
Placental tissues
Meconium
Neonatal urine
Participants also provide data via comprehensive questionnaires during pregnancy and at their postpartum visits. Additional data is collected from maternal and newborn medical records. Learn more about the GAPPS BioServices specimen collection schedule here.
GAPPS Bioservices Development and Technical Support
In addition to GAPPS' own biorepository collections, GAPPS provides professional consulting and technical support to develop, implement and coordinate external biobanks and pregnancy research projects. GAPPS expertise has been called on to develop, implement and coordinate several large multisite international biobanking efforts. GAPPS played an instrumental role in the design and operations of the InterBio21st project. The successful conclusion of this project resulted in over 170,000 banked samples. In addition to the design of collection protocols, GAPPS produced and shipped 27,000 collection kits to 7 sites on 5 separate continents.
GAPPS is the Coordinating Center for a multicenter cohort study funded by the Bill and Melinda Gates Foundation which has enrolled thousands of pregnant women in Africa and Asia, collecting longitudinal sets of biological samples throughout pregnancy, labor and delivery, and the postpartum period. GAPPS oversaw all operations of these cohorts and provided turn-key biobanking solutions that included collection protocols, sample collection kits, data systems integrating complete chain of custody tracking through kit production, sample collection, transport, processing and storage.
GAPPS BioServices is available to help with your next project, from consulting to delivery and management of comprehensive biobanking programs.
Harmonization Efforts
To enable utilization of specimens across collection sites and projects, regardless of geographic origin, GAPPS has worked with our partners to develop standardized protocols and operating procedures. These include standardized:
Collection kit design
Collection procedures with time stamped process waymarks and defined collection windows
Common processing protocols
Standardized chain of custody documentation
Robust, error proofed data collection systems with harmonized questionnaires and medical record abstractions.
Validated shipping, handling and storage systems to guarantee the integrity of both specimens and associated data.
GAPPS BioServices Facilities
GAPPS BioServices is housed in a state of the art facility in Lynnwood, Washington outside of the Seattle Area seismic shake zone. The facility includes:
LabVantage Industry Benchmark Standard, HIPPA compliant, database system
Sustainable archival of samples using Sterling Ultracold -80°C freezers operating at 30% of the power consumption and carbon footprint of conventional units and utilizing natural helium and ethane refrigerants.
Vapor phase LN2 cryogenic storage facilities.
24/7 monitoring of freezer power status and temperature, accessible over internet, with multiple modes of notification.
Continuous logging of temperatures and freezer diagnostics, 24CFR11 compliant.
Propane powered backup generator with automatic failover, 3x capacity over rated need.
Class II, Type A2 biological safety cabinet for aseptic transfer and partitioning of specimens.
Computype TubePro i100 labeling machine capable of applying 600 cryogenic labels/hr. Suitable for total LN2 emersion to vials of any form factor.
Expertise in cryogenic shipments both nationally and internationally.
Experienced, highly trained and mission driven staff dedicated to the highest standards of service.
To have your samples curated and housed at GAPPS facilities please contact us at: GAPPSBioservices@GAPPS.org